Hi! I haven't had the time to really work on this. Everything's kind of a draft! Welcome though. This is my personal blog.



So it's going to be about me and a few things connected to being me. I'm Patti David and I'm 17 going on 18. I'm from Ateneo>.


Concerns? Ask.
Twitter
Facebook

Your Cbox here.


Parked Cars this night sky

Tuesday, May 08, 2007 @ 7:15 PM

What does boredom do?
Let me show you :)
Hahaha!
I love Photoshop Tutorials.
I was inspired by the lyrics of Urbandub's First of Summer.
I LimeWired.
Hahaha!
I might go to town tomorrow with the Betches!;p
Hope it pushes through.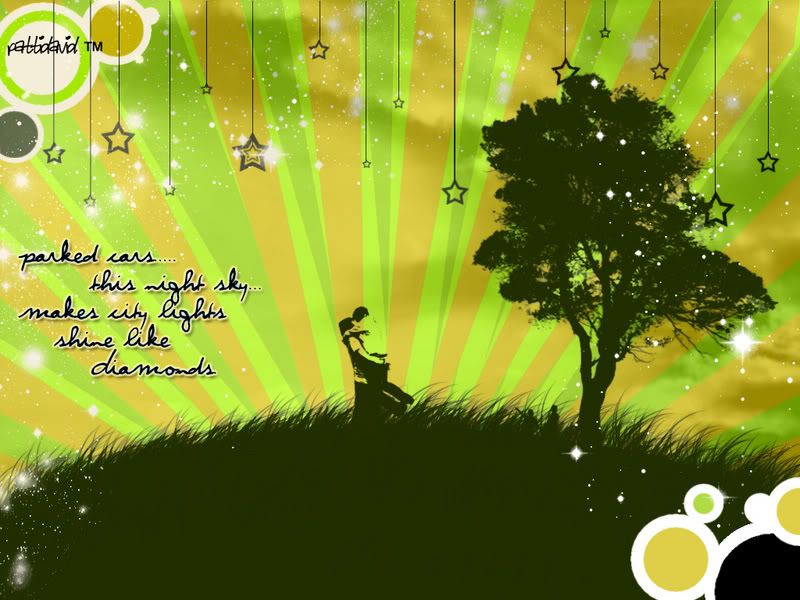 SUMMER RANDOMSITY:

It's amazing what brushes and lassos can do in Photoshop
check out Tommy's deviantart: http://phatzombie.deviantart.com
Wag na seryosohin ang mga magulo.:P
Tutorialized.com
Google AdSense
AkoModelo is like Friendster
The AuPairs- Sunkissed- My 4th Summer Book- Summer in the Hamptons
Grammar is the greatest joy in life nga ba?
Did you WENT is wrong.:))
When did you DID is SO wrong.:))
Stuffs is a common mistake :)- Stuff is Plural
EquipmentS is also wrong.
I've been eating a lot lately :
I miss my sister.
Chloe-my niece is CUTE :)
Hello Tricia, my new textmate :D
Bakla,Bading,Vax,Vad,Spapartans,Chos,Warla.-Gay Linggo :))
Unlitxt is still SULIT
OUTLETS :(
It's been raining
Thursday Facial
Tatah :)